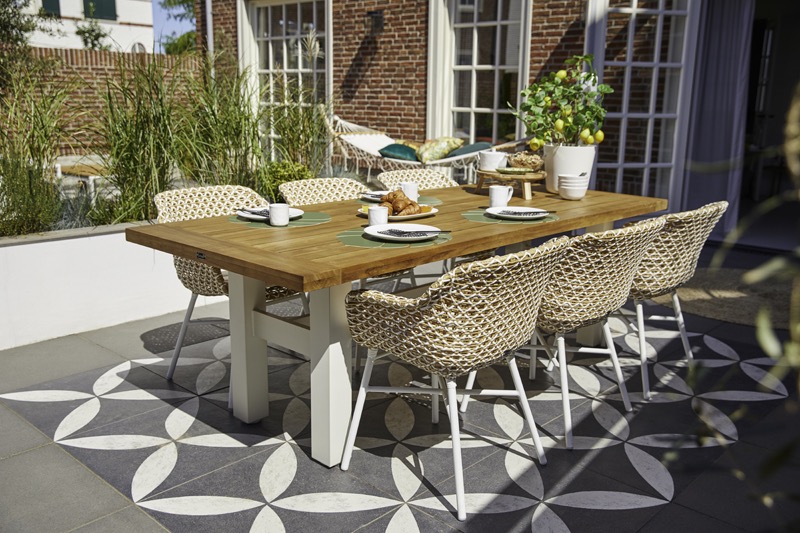 Outdoor Spaces
With summer fast approaching, it's time to head outside and begin preparing our outdoor spaces. Designing our spaces doesn't require a different skill set from designing regular interior spaces, however, it does require a little knowledge of products, finishes and materials that can look beautiful, be comfortable, and withstand the elements of wind, water and lots of sun. Let's take the typical interior and break it into parts and compare it to how you would design an outdoor room of equal design.
Probably the most important thing that makes an outdoor space become an outdoor room is comfortable furniture. The options in outdoor furniture are vast and meet every design style and functional requirement. Some options are teak, synthetic resin, rattan, aluminium and so much more. Keep in mind how you intend to use the outdoor space, and plan accordingly. Also, allowing the spaces to have multi-functions will make them more useful to you and your guests. Depending on the size of your space, incorporating a mix of lounge chairs, and dining height tables and seating allow for outdoor meals, games or an impromptu office space.
A further and often overlooked element is floor coverings. Adding an outdoor rug to your outdoor room helps define the space. Just like you would use an area rug over your hardwood floors in your interior living room, you should likewise use a rug outdoors. The most durable material for outdoor rugs is polypropylene which can take a lot of wear and tear, does not absorb water or moisture, is highly stain and fade resistant and can be scrubbed down to clean.
The final element of your outdoor space is lighting. When the sun goes down, you will still want to use your outdoor spaces so make sure they are properly lit. There is nothing more ambient than the light produced by candles so, fill your space with lanterns. I love large lanterns that allow for several pillar candles at once, the more the better as far as I am concerned. Another clever lighting option is elegant solar powered twinkle lights and of course, because they are solar powered, there is no hassle with power cords and cables. In Spain we spend as much time in our outdoor space as we do our indoor space. A well planned and furnished space will give you enjoyment for many years to come. So plan well and try to be as creative outside your home as you are inside.